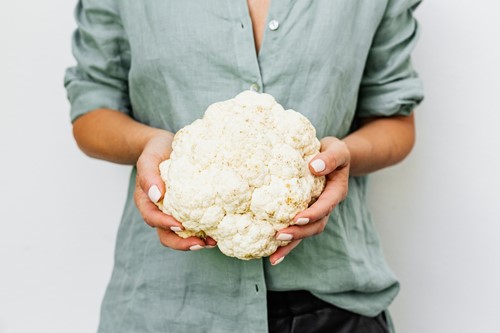 Buffalo chicken wings are a classic party snack for any occasion. However, if you prefer a meatless alternative, cauliflower floret "wings" are the perfect option. This spicy and savory snack is simple to make and a vegan and vegetarian favorite. Here's everything you need to know for making your own cauliflower wings:
Ingredients
1 head of cauliflower
3/4 cup all-purpose flour
1 tbsp garlic powder
1 tbsp onion powder
1/4 tsp salt
1 cup Frank's Red Hot or other vegan-friendly buffalo sauce
1 tbsp of vegan butter
1 tbsp pure maple syrup or agave
How to Make Cauliflower Wings
Preheat your oven to 425 degrees. Add a piece of parchment paper to the baking sheet and top with some oil or cooking spray.
Chop up the cauliflower into bite-sized pieces. The simplest way to do this is to cut the head in half and trim the individual florets from the main stalk.
Combine flour, garlic powder, onion powder, salt and water in a large mixing bowl. Whisk the mixture together until it's smooth.
Add the cauliflower. Make sure each piece gets an even coat of batter.
Remove each piece of cauliflower and shake off the excess batter into the bowl before placing on the baking sheet.
Bake for 20 minutes and then flip. Bake on the other side for about 15 minutes.
Prepare the hot sauce mixture in a small saucepan. Melt the butter over medium heat, add hot sauce and your choice of sweetener. Stir until combined and set aside while the cauliflower finishes baking.
Once the cauliflower is crispy, take them out of the oven and put them in a mixing bowl. Add the sauce mixture and combine. Serve right away or put them back in the oven for extra crispiness.
If you're not worried about animal products, traditional ranch and blue cheese dressings are delicious and creamy dipping options. Otherwise, these vegan-friendly buffalo "wings" go perfectly with vegan versions of ranch or blue cheese.
This recipe also works well with gluten-free flour if you prefer. You can substitute any sauce to make a variety of "wing" flavors like BBQ, teriyaki or chipotle lime. Serve with some fresh veggies and you have the perfect balance of spice and refreshment in the same excellent party snack.