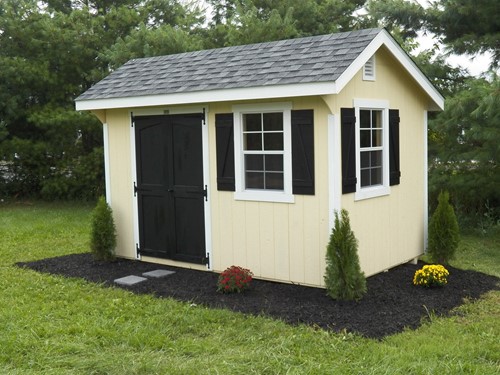 A storage shed offers a great place to keep your lawn mower and other lawn care and gardening equipment. You can also store bikes and other outdoor recreation equipment in these sheds, or keep your trash cans hidden away in them. Having one of these sheds can free up space in your garage while also making it easier to get to items or equipment when needed. If you're planning to build a storage shed yourself, consider the following ideas.
Greenhouse Shed
A greenhouse shed is an ideal storage shed if you're mainly building one for gardening and yard work. You can build the storage shed first, then add a greenhouse on the side of it. Build a shed with a slanted roof for more storage space to hold gardening and lawn care tools and equipment. The greenhouse section can be enclosed with clear panes of glass that allow you to see your plants and flowers while ensuring that they have plenty of sunlight.
Bike Shed
A storage shed gives you a place to put your bikes, helmets and any other cycling equipment you use. A bike shed helps keep your bikes safe from bad weather and intruders without having to use up any garage space. You can build a two-door bike shed in the size you need, depending on how many bikes you have. Bike sheds are usually small enough to build right next to your home, so you can hop on your bikes whenever you want. The two-door design makes it easy to wheel your bikes out.
Trash Shed
Having garbage cans out in the open isn't just unsightly. These cans might also attract pests, especially if they're too full. This can lead to odors and a lot of cleanup if your cans end up being knocked over. Building a storage shed to hold your trash cans helps keep them out of sight and prevents wildlife and pests from getting into them. All you need is a simple two-door shed that's just big enough to hold your trash cans and recycling bins. Instead of a regular roof on your shed, consider putting in a top that raises up. You can then open the top to place garbage bags inside your cans. When you need to take them to the curb for garbage day, you can open the doors and slide them out easily.
Add-On Storage Shed
You don't have to build a storage shed that's separate from your house. An add-on shed can be built onto your home exterior. This can make your shed easier to get to rather than having it farther out in your yard. Your add-on storage shed should be painted to match the exterior of your home for a seamless look.