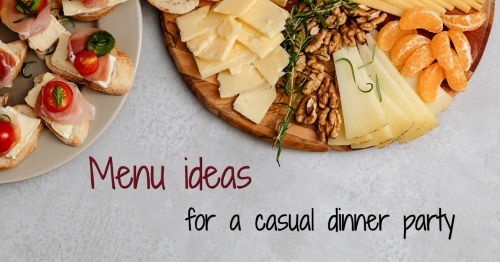 Whether you're hosting or attending, it never hurts to have extra casual dinner party menu ideas. A casual dinner party is perfect for sharing comfort food and simple dishes without the fancy frills. If you're searching for ideas for your next dinner party menu, here are some casual ideas your dinner guests will love:
Charcuterie platters
A simple charcuterie platter offers a variety of flavors and textures in a single dish. Arrange some of your favorite cheeses, fruits, cured meats and other tasty snacks on a serving platter or traditional charcuterie board. Serve with a fresh loaf of french bread or a selection of tasty crackers.
Crockpot party dips
For a dinner party idea sure to please the masses, try making a batch of spinach artichoke dip in your slow cooker. This warm, cheesy favorite is simple to make ahead of time and goes perfectly with a variety of dipping items like bread, chips or veggies.
Appetizers in the air fryer
If you have an air fryer, you're perfectly equipped to make delicious party appetizers. Stuffed mushrooms, crab cakes and chicken wings are just a few examples. Try making your own mozzarella stick bites by rolling balls of cheese in breadcrumbs and frying until golden brown. Serve with warm marinara sauce for a delicious addition to any hearty meal.
Single-serving snacks
Creating a health-conscious party menu means more than addressing dietary needs. It also means preventing shared germs by serving bite-sized, individually portioned snacks your guests can safely enjoy. Some excellent ideas include mini caprese salad bites, bacon-wrapped jalapeño poppers and roasted vegetable skewers.
Simple make ahead desserts
Don't forget to include dessert in your casual dinner party ideas. Opt for no-bake desserts or dishes you can make the night before, like minty grasshopper pie or any number of no-bake cheesecakes. While these desserts might require a bit of prep time, you can rest easy knowing you have a delicious finale to your casual menu.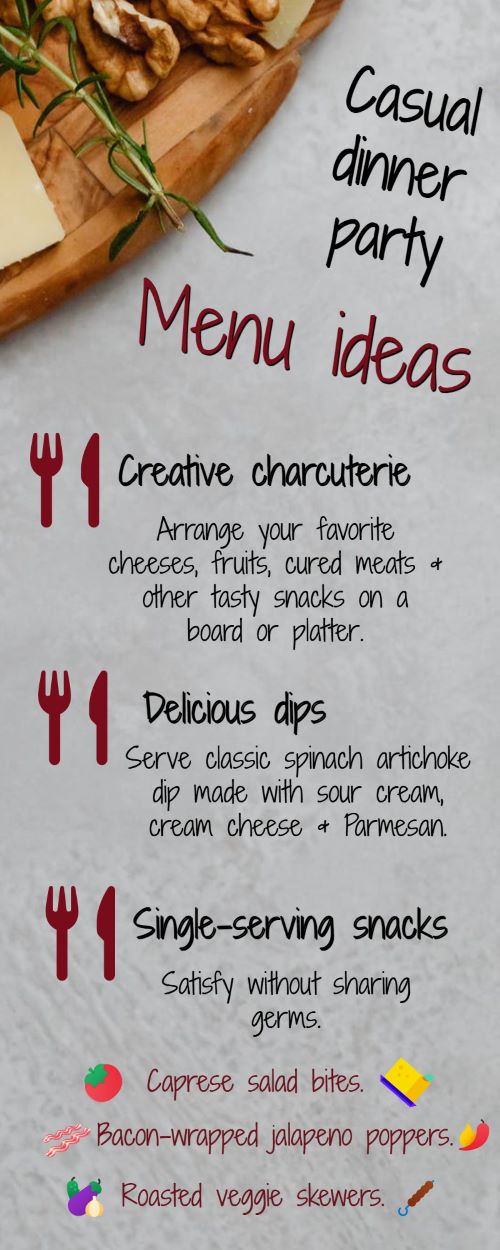 For a casual dinner party, you can't go wrong with sharing food you genuinely enjoy. However, if you want some new recipes for your party's dinner table, keep these tasty dinner party ideas in mind.